Oct. 24.14. Interview with Buzz Daly and Brad Craft
Like This Video
0
3093
Today, I conducted two more interviews for the documentary. I met and recorded interviews with Buzz Daly, a longtime sports journalist and magazine publisher, and Brad Craft, a software programmer who designs specialized software for analyzing point spreads on games. Buzz shared his ideas on what attracts people to bet on sports, and how the games lend themselves well to gambling. Brad talked about how technology and the internet has changed the pace and character of sports betting tremendously. Clearly, this story has legs, and just from their short interviews I can see how the seemingly mundane topic of sports betting is intertwined with more significant aspects of American culture and the American psyche. I intend to do a more proper and lengthy interview with each of them once the project gets funded, for their stories and viewpoints provide an interesting backstory to the evolution and transformation of sports betting in America.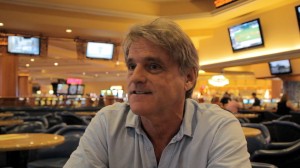 0
2874
1
Last night, I sat down for a follow-up interview with Mr. Dennis Tobler, a 30+ year veteran of the sports betting industry here in Las Vegas. It was a heartwarming moment as Dennis waxed nostalgic of his first trips to this

0
2904
0
Long before sports betting drew national interest with the growth in popularity of the professional sports leagues, people had for decades eagerly flocked to race tracks across the country to lay their bets on horse races. This national pastime has played a pivotal

0
4563
3
Today's tout services and sports picks shows online and social media owe their existence to the early show creators and producers who pioneered the genre back in the 1980s. And no one is better at telling how it all started than executive producer
No Comments

No Comments Yet!
But You can be first one to write one