Oct. 24.14. Interview with Buzz Daly and Brad Craft
Like This Video
0
2488
Today, I conducted two more interviews for the documentary. I met and recorded interviews with Buzz Daly, a longtime sports journalist and magazine publisher, and Brad Craft, a software programmer who designs specialized software for analyzing point spreads on games. Buzz shared his ideas on what attracts people to bet on sports, and how the games lend themselves well to gambling. Brad talked about how technology and the internet has changed the pace and character of sports betting tremendously. Clearly, this story has legs, and just from their short interviews I can see how the seemingly mundane topic of sports betting is intertwined with more significant aspects of American culture and the American psyche. I intend to do a more proper and lengthy interview with each of them once the project gets funded, for their stories and viewpoints provide an interesting backstory to the evolution and transformation of sports betting in America.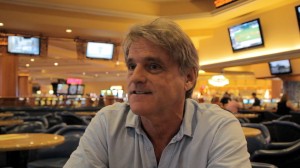 0
4120
3
Last night was a highlight interview with the master himself, Vegas stalwart and top-rank sports handicapper Joseph D'Amico, at the new Hooters sports bar in Henderson. One of our key objectives for this documentary is to bring you the inside

0
2827
2
Following up our interview with Joseph D'Amico last month, we had a chance to visit him at his office last night. As expected, the place was very well laid out and organized. The most striking feature was his impressive collection of

0
3396
5
Not a lot of people can claim working with Frank "Lefty" Rosenthal during the glory days of the Stardust Casino like Jim Bobbera can. From 1968 till 2014, Mr. Bobbera was a fixture of Las Vegas' marquee casinos  from the Stardust, Dunes
No Comments

No Comments Yet!
But You can be first one to write one